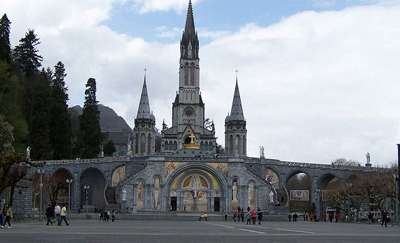 Lourdes a city culture
Immerse yourself in the particular world of the city Lourdes and discover its cultural richness
Lourdes attracts more than 6 million visitors every year from more than 140 countries all over the world.
The town is world-renowned for its close proximity to some exceptional landscapes as well as its historical and religious importance.
In particular, Lourdes owes its fame to Bernadette Soubirous. In 1858, when just 14 years of age, the Virgin Mary appeared to Bernadette in the Massabielle Grotto.
The Sanctuary of Our Lady is today a world-famous pilgrimage location with its history of "miraculous cures", 68 of which are officially recognised by the Catholic Church.
The Hotel Majestic, in the heart of Lourdes, is situated just 400 meters from the first sanctuaries and 800 meters from the Massabielle cave.
Discover the beautiful city of Lourdes :
The little tourist train (400m from the hotel)
Enjoy a trip around Lourdes aboard the touristic street train which, on its 7.5km circuit, will take you to all the most interesting and prettiest corners of the town.
The Sanctuaries (between 400 and 800m from the hotel)
The world-renowned site associated with the appearance of the Virgin Mary to Bernadette.
And Lourdes is also famous for its numerous museums:
Grévin Museum (780m from the hotel)
Part of the world-famous Grévin Waxworks museum in Paris,
this is one of the most sought -after attractions in Lourdes. On display are over 100 life-sized characters depicting the fascinating story of Jesus Christ and of Bernadette's life.
Gemmail Museum (710m from the hotel)
A collection of master-works illustrating the use of a technique used in non-leaded stained glass ("Gemmail" - the association of glass, light and colour without lead assemblages).
The Museum of Lourdes (650m from the hotel)
The museum is dedicated to the history of the town as it was in 1858, at the time of the apparitions.
The Little Lourdes (1.6km from the hotel)
A reconstruction, in miniature, of Lourdes in 1858 lets visitors stroll into the past and see life as it was in the time of Bernadette.
The Miraculous Medal museum (370m from the hotel)
A reconstruction, in 12 scenes, of the events (after the apparitions in the Rue du Bac) leading to the striking of the of the Miraculous Medal.
Cinema Bernadette (1.3km from the hotel)
A two-hour film retelling the story of the apparitions since 1858.